Great Olympic Sports For Improving Fitness
Since the London 2012 Olympics, more and more people have been interested in taking up some of the sports they saw. In particular, as the United States performed well in some areas, lesser known sports are becoming quite popular. Lots of people see sports, especially the ones you can do solo, as a great way to get into shape.
The United States Olympic teams did particularly well at cycling in the 2012 Olympic events. The US stands 5th overall out of 44 competing countries across Olympic cycling. Burton Downing (1885-1929) still holds the US record of a total of 6 Olympic medals in cycling events. All the Olympic cycling events are speed races. They include BMX racing, road racing, track racing and mountain biking events. Men and women compete in their own events.
If you are a keen cyclist, or if you fancy giving it a try, it is one of the easiest sports to get into. Most of us have ridden bikes before, and some of us even had a go at BMX stunts and tricks when we were kids. There are road racing bikes, mountain bikes, BMX bikes and others to choose from. All should be used with proper protective wear including cycle helmets and pads if you are racing.
Using a bicycle can save you a fortune in gas, parking or public transport charges. It is fairly easy to tackle four or five miles on the road in 25 minutes at a leisurely pace if you are just starting out. There are some great accessories you can get for your bike. Like a pedometer, you can use gadgets and apps to measure your speed, distance and calories burned. Little trip computers are great for monitoring your progress.
You can also use free apps on your smartphone to track your rides by GPS. Using satellite navigation in this way can help you get around, or even find new routes you may not have taken in the car. There are plenty of leisure cycling apps, forums and clubs around with lots of great route maps you can use. You may even be interested in touring your state by bicycle.
It may be that you fancy getting up a bit of speed. Building your fitness and stamina on a bike is great fun because you can get such varied scenery in just one ride. If you join a group or a club you may want to buy their club jersey, or even have some custom bike apparel made for you. Streamlining what you wear for speed is a good idea, and much of the cycling wear out there is great for keeping you warm, cool and dry whatever the weather.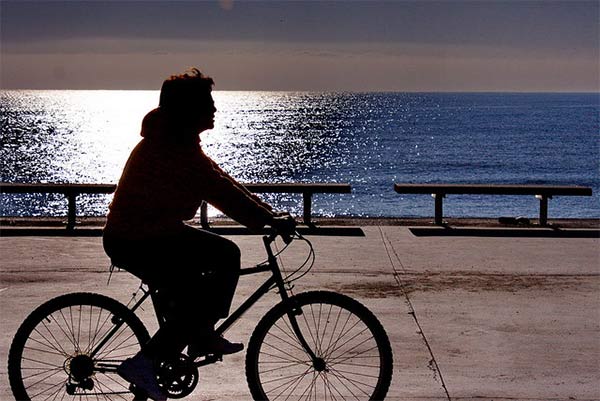 If you are thinking about taking up cycling, remember it is important to make yourself and your cycling companions as safe as possible on the road. Wear a helmet and high visibility colors. Use lights on the front and back of your bicycle in the rain or if it is dark. Make sure you can clearly hear other road users if you wear a headset.