The Worst Offseason Move in NFL History
By - Zach Gilliland

It is evident to anyone who kept up with this past NFL season that the Jets just never seemed to be ready for a successful season. Even before the season, the media seemed more fascinated by the backup quarterback than the actual play of the starter. Day in and day out, the media poured in Jets Training Camp to find out whatever they could about Tim Tebow. In an interview with Mark Sanchez, one reporter even called him "Tim", showing the love felt for Sanchez. Many thought that having Tebow around would motivate Mark Sanchez and make him better by providing competition, when in reality all it did was hinder his ability to be a leader for the Jets.
Sanchez, now with his feet wet in the NFL, has been through multiple offensive coordinators and never had a stable foundation to lead with. This alone is enough reason to doubt Sanchez's ability to be an elite quarterback capable of leading the Jets to the Super Bowl, but add in an offseason circus of a training camp, and a dysfunctional locker room and you have the recipe for failure. All season long people were calling for Sanchez's job and with every incomplete pass or interception, the louder and more vocal the doubters became.
 
Perhaps the Jets could have found a more efficient way of using Tebow because the "Wildcat" package that was so hyped up was invisible and useless during the season. Now that I think about it, I think there were a couple of waterboys that saw the field more than Tebow. Rex Ryan wouldn't even pull the trigger on him when Sanchez was benched.  A switch to tight end or H-back could have saved much criticism of Tebow and could have given the Jets an offensive weapon. Defensive coordinators would be so pre-occupied by this former Heisman winning quarterback on the field that opportunities for others would arise.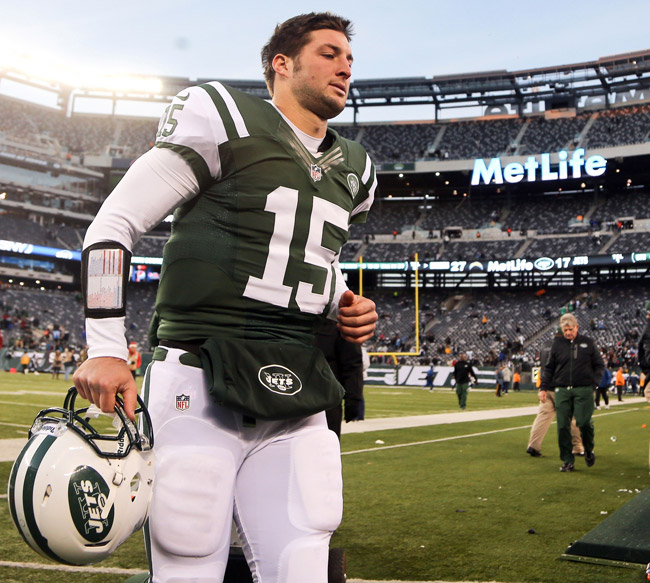 Dec. 23, 2012; East Rutherford, NJ, USA: New York Jets quarterback Tim Tebow (15) runs off the field after the game against the San Diego Chargers at MetLife Stadium. Photo Credit: Debby Wong-USA TODAY Sports.


Tebow had his moments in Denver, and as a fan can say that I was aboard the "TebowMania" bandwagon. That being said, there is a difference in being a big fan of the guy and thinking that this move was the right one for the Jets. The Tebow to Jacksonville deal would have ran over a lot smoother than the move to New York. Going back to play in his hometown would have made him an automatic fan-favorite, and with the Jaguars' failing season it is likely that he would have gotten a substantial amount of playing time. The move to New York made no sense when it happened, and it makes less sense now.

All in all, the Jets should have never wasted their time with Tebow because all he provided was a big distraction in the locker room that kept the Jets from focusing on football and a reason to further criticize Mark Sanchez for his poor quarterback play. Maybe the Jets will learn from this and bring in a less-distractive backup next season.


Have a Comment?
Do you have a comment about NY Sports? Here's the place to make it -- and let others read it and respond.
---
From The Worst Offseason Move in NFL History to New York Jets Blog | The Best NY Sports Blog | NY Giants Blog | NY Yankees Blog | NY Mets Blog | NY Knicks Blog | NJ Nets Blog | NY Sports Fan Forum | Current NY Sports News | Top Ny Sports Blogs | The Best NY Sports Videos | NY Sports Fan Gear |
---
Homepage | About Us | Contact Us | Questions |
---